Bravo is Mr. Personality. He brings happiness into the room as he enters it. In addition to brightening up our lives, Bravo has grown into a very handsome poodle. He is masculine and still as sweet as can be. To say that he has stollen my heart would be an understatement. He is very intelligent and eager to please. I'm planning on adding an obedience title to Bravo's name in the future.

Physically, he has a lovely head piece, spot on substance (balance of bone and muscle in comparison to the size of the dog), balance, great shelf, decent front assembly, good spring of rib, perfect tail set, tight feet, floating gait, and mesmerizing nicely shaped eyes. 

Bravo will be available to approved females in June 2017 after he has completed and passed all of his genetic testing. 


NE ~ Carrier (concerns breeders only as you can't breed two carriers together) 
vWD ~ Clear by parentage and DNA
DM ~ Normal
Hips ~ not yet tested (waiting until he's two years old)
Elbows ~ "
SA ~ "
Thyroid ~ " 
Eyes ~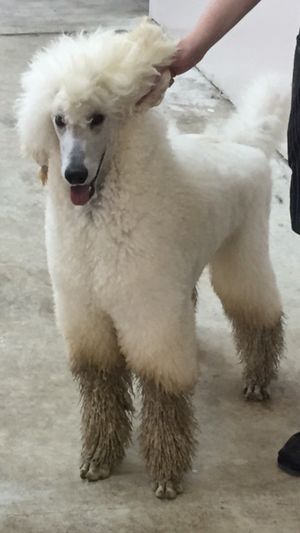 1999/4/20

Daniel was bred by Ann Rairigh and owned by Carolyn Lichty. Carolyn tells me that while Daniel was quite stunning, his personality was larger than life. I've spoken to many people who own one of his poodle kids and they all remark on the amazing personalities that their Daniel kids have. Daniel is a top producer and many of his offspring have went on to earn some prestigious rewards and appear in highly publicized dog shows.

1997/10/17

Colin was owned by Ann Rairigh of Litilann's Poodles. Colin is a top producer of over 20 champion poodles including BIS get. He was the 2003 Best stud Dog at PCA (poodle Club of America)

1983/8/8

Breeder Marilyn Mancini Owner Giselle Bursee The call name for this black standard poodle was Cole. While Cole's title surely speaks volumes about how nice he was, his offspring have also went on to accomplish great accolades in the dog show community.

2010/10/26

Click on Raven's picture and then on arrows to view additional pictures of Raven.

2008/3/18

Owned by Chris Bailey of Jasets Poodles ~ London's Show career is quite impressive. Well over 200 group firsts. 100 Best in Show win. The BIS Eukanuba Winner 2011. BISS PCA (Poodle Club of America) 2011 Eukanuba World Challenge Champion 2012

2002/11/13

Jagger is owned by Chris Baily of Jaset Poodles - CH at 10 months of age - - 2006 PCA 1st Award of Merit - - 2006 AKC/Eukaneuba Invitational Best of Breed - - 2007 Westminister Best of Opposite Sex - - 8 All Breed Best in Shows - -Multiple Speciality Best in Shows -

1999/3/21

Lexus was bred and owned by Chris Baily of Jaset Poodles.

She is the mother of 6 champions. She was an incredible show dog.

1997/9/30

Ch. Ale Kai Mikimoto On Fifth, a graceful white Standard Poodle, represented the Non-Sporting Group at Westminster Kennel Club in 2003. He was a top ten dog all breeds in 2002, "Miki" had an extraordinary show career, a total of 59 BIS. His great-great grandfather, Ch. Whisperwind On A Carousel, had been Best In Show at Westminster in 1991 and Miki's sire had won the Group three years in a row (1998-1999-2000).

2006/3/19

Owned by Bev Crosby of Calisun Poodles ~ Sunny is a stunning example of the breed. She quickly finished her AKC Championship at the age of 10 months.

1997/10/17

Colin was owned by Ann Rairigh of Litilann's Poodles. Colin is a top producer of over 20 champion poodles including BIS get. He was the 2003 Best stud Dog at PCA (poodle Club of America)

2000/11/4

Owned by Beth Harris of Aris Poodles ~ Aris has an exquisite head, eye and expression, gorgeous carriage, a beautiful tail set and top line and extreme reach and drive. Aris showed for 5 1/2 weeks as a puppy beginning at 10 months old and won 14 points including back to back 4 point majors and an Adult Group 2, 3 and 4. At that point we decided to finish her as an adult so she could be shown at PCA. She and her sister Zazu went 2 & 3rd respectively in the huge open class and their brother went Winner's Dog. Zazu won both majors at poodles specialties and as a 7 month old went best Standard puppy at the San Diego poodle specialty A maternal half sister went Winner's Bitch at PCA 2 years earlier. Multiple BIS, SBIS Cousin Honey was #3 standard in 2003, in the top 5 in 2004 even though she was only shown 1/2 the year before retiring. Honey received 2 awards of merit at PCA and went BOS at Westminster to Mikimoto. Multiple BIS, SBIS Uncle Tyler was #1 poodle in 2000, multiple AOM winner, BOB PCA "99 and BOV PCA 2000.

1996/1/22

Frasier is owned by Peggy McDill and is a Top Producer.

Many thanks to Peggy for sharing this picture with me and telling me how wonderful this boy was in balance and temperament.