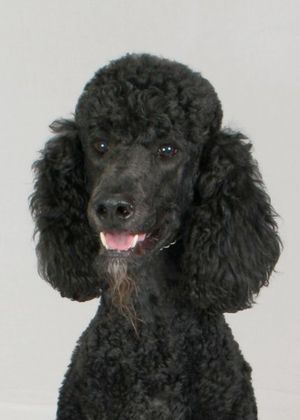 Roscoe was not only our first poodle he was the first poodle to completely steal our hearts. We have been helplessly and happily addicted to poodles ever since he came into our lives. Roscoe loved going to the softball field to watch our girls play. During this time our local field implemented a no dog policy. Trying to respect this rule, we started leaving Roscoe at home. He wouldn't have it. He started sneaking into the car and hiding behind the seat until we arrived at the park. We're sure he had the help of his adoring little softball playing girls. As a result of his insistence to go to the softball fields, we worked it out where he could attend all practices. Whenever we worked with our daughters privately, Roscoe was an excellent center fielder. The speed at which our children, who were young at the time, hit the ball was perfect for Roscoe to catch. He loved retrieving softballs. 

We had hoped to earn titles with Roscoe and eventually use him as a foundation dog in our breeding program. We soon discovered that this plan was going to need to be altered. Roscoe then became a beloved family pet, and we are all so much better for having known and loved him. 

RIP big ol' poodle boy. You are still dearly missed.