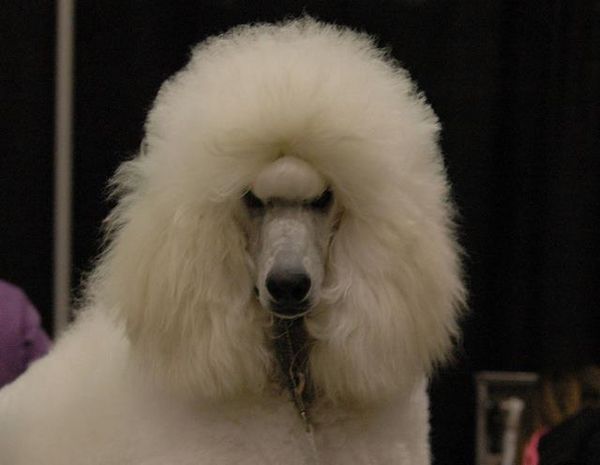 Rumor is the sweetest poodle in our pack. She can often be found in the arms of a family member. She loves to be chased by our other poodles and will tempt and tease them until they comply with her desires. She enjoys tossing her toys in the air and then catching them. We have often walked into a room to find her entertaining herself. In these moments she quickly shifts gears and her entire being sings out "Is it time for a cuddle?" She is a special girl who enthusiastically adores life while maintaining a sweet and stable temperament. Rumor came to us through Beth Harris. We are so grateful for this beautiful, brainy, sweetheart. 

 
Rumor's Health Testing

NE ~ Clear
vWD ~ Clear
DM ~ Normal
Hips ~ Good
Elbows ~ Normal
SA ~ Normal
Thyroid ~ Normal
Eyes ~ Normal

 
Rumor finished her show career with style before her first birthday, often going best of opposite sex to her famous father London, MBIS/MBISS/GRCH Jaset's Satisfaction. She moves with grace and confidence never putting a foot wrong. As suggested by her fantastic movement, she is a balanced poodle. She has a gorgeous head and very pretty feet. Rumor is icey white with consistent black pigment. She is a very nice poodle. 

A highlight from her show career for us was watching her float around the ring at Poodle Club of America's national speciality show. There were 19 beautiful dogs in her class and when Rumor moved the crowd roared.  Rumor came in 2nd in her class, which is quite the honor at this show. The poodle that won 1st place in the class went on to become winners bitch (top female in all classes). We are so very grateful to Ann Rairigh for her professional handling and care while Rumor was earning her AKC championship title. 



 
2012/5/2
Click on Rumor's picture and then on the arrows to view additional pictures of Rumor.
2008/3/18

Owned by Chris Bailey of Jasets Poodles ~ London's Show career is quite impressive. Well over 200 group firsts. 100 Best in Show win. The BIS Eukanuba Winner 2011. BISS PCA (Poodle Club of America) 2011 Eukanuba World Challenge Champion 2012

2002/11/13

Jagger is owned by Chris Baily of Jaset Poodles - CH at 10 months of age - - 2006 PCA 1st Award of Merit - - 2006 AKC/Eukaneuba Invitational Best of Breed - - 2007 Westminister Best of Opposite Sex - - 8 All Breed Best in Shows - -Multiple Speciality Best in Shows -

1999/3/21

Lexus was bred and owned by Chris Baily of Jaset Poodles.

She is the mother of 6 champions. She was an incredible show dog.

1996/12/18

Owned by Chris Baily from Jaset Poodles. Hailey She was pointed but didn't love dog shows as much as her family. She went on to produce 4 champions.

1997/9/30

Ch. Ale Kai Mikimoto On Fifth, a graceful white Standard Poodle, represented the Non-Sporting Group at Westminster Kennel Club in 2003. He was a top ten dog all breeds in 2002, "Miki" had an extraordinary show career, a total of 59 BIS. His great-great grandfather, Ch. Whisperwind On A Carousel, had been Best In Show at Westminster in 1991 and Miki's sire had won the Group three years in a row (1998-1999-2000).

1995/8/14

Treson 169 BIS wins (most by any Standard Poodle) 23 SBIS ~ (Speciality Best in Show wins) Top winning dog all breeds 1998 and 1999 1998, 1999, & 2000 Westminster Kennel Club Group winner

1985/12/12

12/12/85 - 4/16/01 Owned by Linda Blackie

Peter ~ Westminster BIS 1991 100 BIS wins

1992/2/17

Black Standard Poodle owned by Randy Darren & Dennis McCoy

1997/10/17

Colin was owned by Ann Rairigh of Litilann's Poodles. Colin is a top producer of over 20 champion poodles including BIS get. He was the 2003 Best stud Dog at PCA (poodle Club of America)